Disk Image and Disk Cloning
Create images of entire disks or individual partitions
Bare-metal System Recovery
Restore direct from cloud to your disk with our bootable USB utility
Local, Cloud, or Hybrid Cloud Backup
Back up to a local disk, send your data to the cloud, or both
Add Disk Image to Any Plan
Bare-metal System Protection
Backup On-site or Direct to Cloud
Protect your disk image backup across multiple destinations for the ultimate redundancy. Schedule backups to an internal disk, USB hard drives, and NAS devices.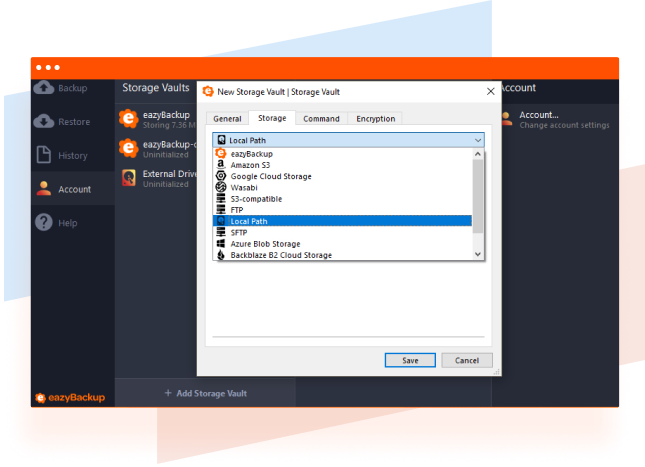 Backup directly to your cloud storage account, no local spool space required. Choose from one or multiple destinations. Choose from eazyBackup, Amazon S3, Azure, Google Cloud Storage, Wasabi, and BackBlaze B2..
Protect your files from Data Loss and Ransomware with automated, encrypted backup for
the Remote and Hybrid workforce.
The eazyBackup application allows you to create USB Recovery Media based on the Windows Recovery Environment.
Boot with our USB recovery tool and restore directly from cloud storage to a physical device.
Restore your disk image to virtual disk image files (.vmdk) and boot in VirtualBox or Hyper-V.
Deduplicated, Compressed, and Encrypted
Whether you're just starting or have an established agency, our pricing scales as you grow
Client-side deduplication ensures fast, space saving, bandwidth-efficient backups.
Keep all your data forever and restore your oldest snapshot as fast as your most recent.
Run your backup once and you will never have to reupload the full file again.
Strong end-to-end encryption. Files are always compressed & encrypted before sending or storing using strong AES-256.

Contact Us for Assistance
Need a quote? Tell us about your computers and storage requirements.
[[[],[],"and"]]
keyboard_arrow_leftPrevious
Nextkeyboard_arrow_right